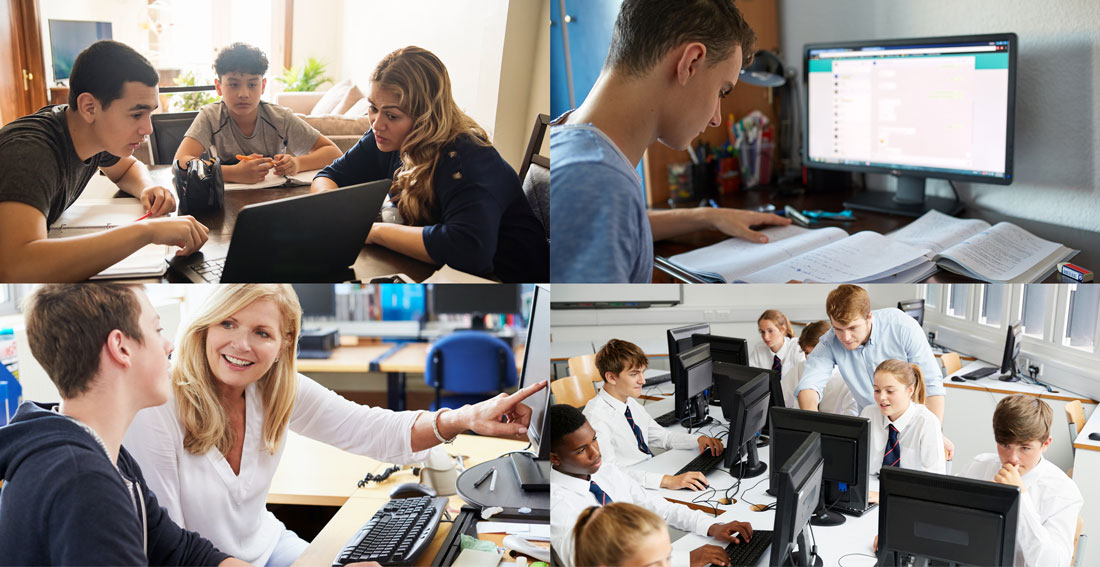 Teacher Assessed Grades
Collect and quality assure evidence for Teacher Assessed Grades using GO 4 Schools markbooks, including online assessments, past papers and historic assessments.
Instantly review and compare subject and cohort performance.
A renewed emphasis on Assessment
Ongoing consultation between Ofqual and the DfE on exam grades for 2021 put Teacher Assessed Grades (TAGs) to the fore:
"In summer 2021 a student's grade in each subject will be based on their teachers' assessment of the standard at which the student is performing. In the absence of exams, teachers are best placed to assess the standard at which their student is performing."
And on assessment it says:
"We will work with the exam boards who will provide training and guidance for teachers to support their assessments and the assurance process schools and colleges will use… We want to ensure the final approach balances the desire for flexibility with the need to make sure grades are valid and consistent."
Schools will need to plan and prepare their approach to establish high quality assessment evidence to inform and support their teacher assessed grades.
What will the focus of teacher assessment be in your school over the next few months?
High quality assessment will inform students, parents, and teachers of gaps in learning and levels of knowledge for your examination cohorts.
OFSTED research into remote education for young people with SEND found that:
"Some schools were assessing what has or has not been done rather than what young people have learned."
59% of SEND students have not engaged in their learning compared to 39% of their peers, so clearly identifying the learning needs for your SEND cohort – and all students – is imperative to ensure they can progress beyond secondary education.
Schools have risen to the challenge
During lockdown schools have embraced many approaches to teaching and assessing students' learning, including assessments from online learning systems.
Does your current approach to tracking assessment support the breadth of your curriculum?
This is a good time to pull together all assessment data for your students into one place to build a detailed summative view to inform teacher assessed grades.
GO 4 Schools has risen to the challenge too
At GO 4 Schools we are working to support schools with their approach to collating Teacher Assessed Grades for the 2021 cohort. We want to ensure teachers can remain focused on teaching students, with everyone working towards awarding the grades that fully reflect students' individual abilities and enable them to progress to their next phase of education or training.
Further information is pending from Ofqual and the Awarding bodies, and as updates become available GO 4 Schools will continue to update the support for schools accordingly.
Tracking that meets your needs
Our Online markbooks module is a key component. It allows simple, flexible 'mixed-economy' recording of:
Teacher assessments of remote learning tasks
Detailed or summary data from remote learning platforms (as a simple upload if necessary)
Mock exam results, as marks and/or grades
Low‑stakes testing
Collecting assessment data to calculate a live current working grade, rather than a data drop/capture approach gives a much clearer view of the students' strengths and weaknesses when looking at a range of assessment data.
It is this detailed assessment tracking that enables your teachers to successfully adapt lesson plans and focus on key areas of content where misconceptions in learning are evident.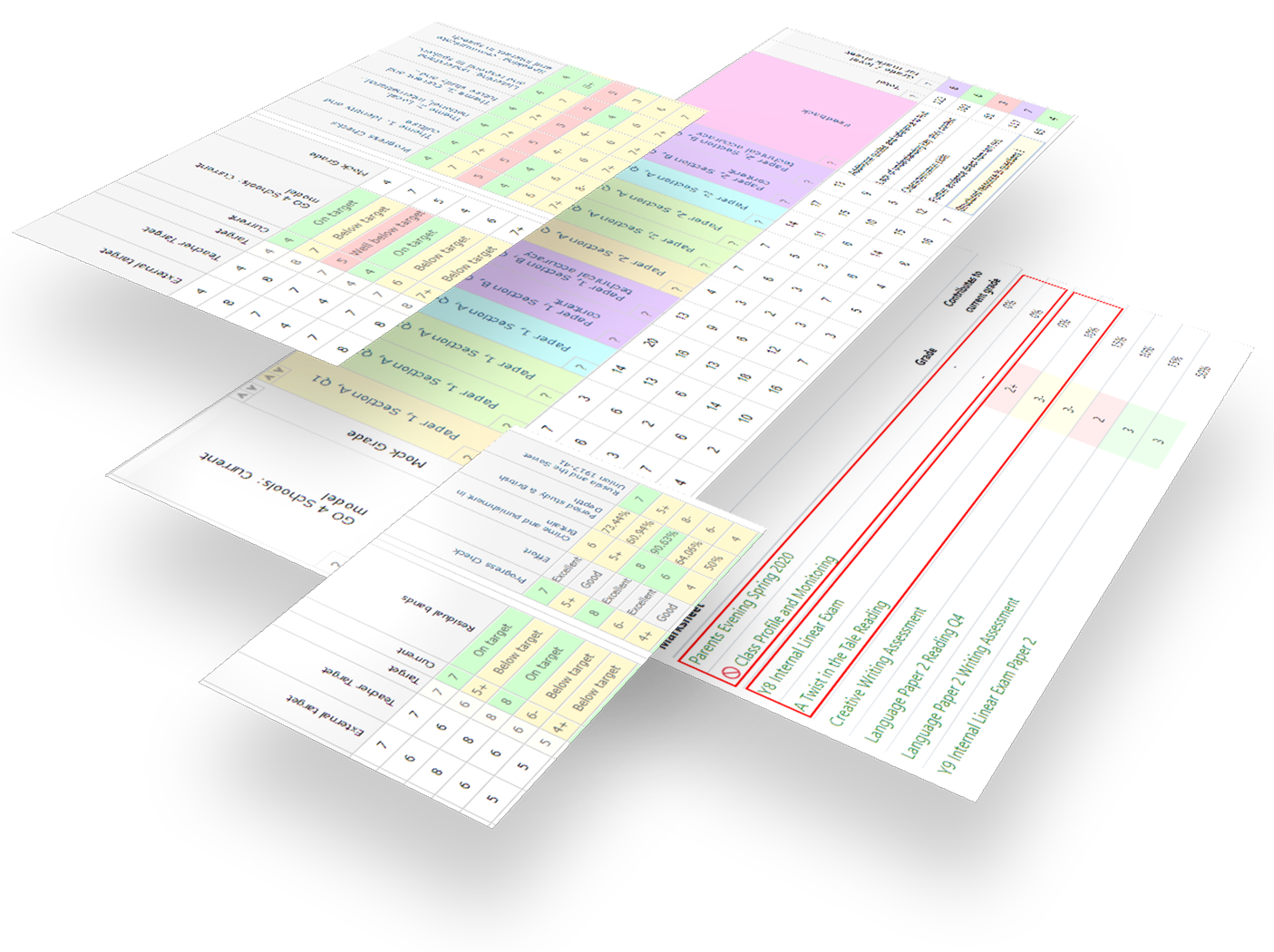 These are just some of the things you can do with our markbooks:
Record using combinations of grades, marks, checkboxes and notes
Easily adjust weightings and use built-in rules for combining inputs in curriculum strands
Summarise assessment data using grades, percentages and residual schemes
Viewing data as a grade or a percentage value may be helpful for teachers to see an aggregated marksheet value or a detailed assessment value, especially if using exam past papers.
When the time comes, teachers can use the same information they have used to inform teaching and learning during the year to serve as evidence for Teacher Assessed Grades.
And finally, because assessment data held in GO 4 Schools is visible to all staff, you shouldn't be in for any surprises.
Supporting your use of mock exams papers to build evidence
"To help teachers make objective decisions we propose that exam boards should provide guidance and training, and make available a set of papers, which teachers use with their students as part of their assessment."
(Consultation outcome)
Schools have told us they will need students to sit past papers to establish their performance across the taught aspects of the specification. The DfE has suggested the use of past papers as a way of schools ensuring they have sufficient evidence of assessment on which to base the teacher assessed grades.
At GO 4 Schools we have created a large set of past exam papers for all Awarding bodies. These are available as templates for schools to copy into their own markbooks to sit alongside your current assessment framework.
Within each markbook there is a standard set of marksheets that schools can select from to best suit their context and requirements:
Grading sheet for all topic areas from the specification – if you just want to record high-level grades
Mark sheet collection for all topic areas from the specification – if you just want to record percentages or raw test marks
Sample exam papers marksheets – if you just want to capture this to view performance over time across different papers
If you choose to use the sample exam paper marksheets, you'll find:
Exam papers from previous years set up with the appropriate grade boundaries for the year
Separate marksheets for Higher and foundation papers
Separate marksheets for Paper options, e.g. for History
Weighted marksheets that calculate grades or marks inline with your assessment framework
Marksheets for detailed question-level analysis (QLA). With this option, the teacher can easily sort students in a markbook by their mark in a question, see gaps in student learning and adapt teaching accordingly.
Whichever way you choose to go, the markbook can be copied into your school site and then the specific marksheets you require copied into/alongside your existing subject markbooks and preferred tracking set up.
Support for non-exam-based assessment
"Art and design GCSE, AS and A levels are assessed by non-exam assessment only. For 2021, students' grades were to be based on their portfolio. We propose that the student's portfolio – whether or not it is complete at the time of the assessment – should be the sole evidence teachers use to decide on the grade the student should be awarded"
(Consultation outcome)
Sample template markbooks for subjects with non-exam assessment are also available so teachers can fully record all completed criteria with the appropriate weightings of the work to inform their judgements.
Proposed timeline for Teacher Assessed Grades
The current proposed timeline for the teacher assessed grades is outlined below with commentary of how GO 4 Schools can support each phase:
Date/period
Description
From 8th March
Returning to school – students would continue with their education during this academic year.

Teachers add and record key assessments in GO 4 Schools markbooks to build a full picture of evidence for all year groups

By May half term
Students would be assessed by their teachers.

Results from past papers entered into marksheets copied from GO 4 Schools template markbooks (to record assessments using appropriate grade boundaries)
Use department time to moderate papers and the 'all groups' markbooks to view subject cohort performance

By 18th June
Schools submit grades to the exam boards. Consultation on how GCSE, AS and A level grades should be awarded in summer 2021.

GO 4 Schools delivers a template marksheet for the collection and download to CSV of Teacher Assessed Grades in the correct format for submission to the Awarding body (as soon as this format is known)

Throughout June
External quality assurance by the exam boards

Consistent assessment data collected in GO 4 Schools markbooks is a solid evidence basis for quality assurance of assessment built up over time
GO 4 Schools Starter version includes a range of statistical outputs to allow schools to instantly view Year group and subject data
Interactive subject residual and grade distribution ribbons allow schools to view data across key groups and compare to previous school outcomes

Most likely in early July
Results issued to students once the QA process is complete.

GO 4 Schools teams will be on hand to support schools for an early exam results day – A Level results will be immediately followed by GCSE results and embargo requirements
The GO 4 Schools Starter version and Report module has an exam report template which is available if schools wish to publish results online

Immediately following the issue of results
Student appeals submitted immediately and would first be considered by schools and colleges

Complying with GDPR GO 4 Schools offers subject access requests via a support ticket if required
The data set up in GO 4 Schools markbooks supports the school processing and handling of data to make informed teacher judgements
GO 4 Schools Online markbooks capture assessment data that fits the context of your curriculum with live tracking so your teachers can respond and make better decisions for their students. Removing the need for spreadsheets in silos and bringing greater consistency to the impact of your curriculum delivery.